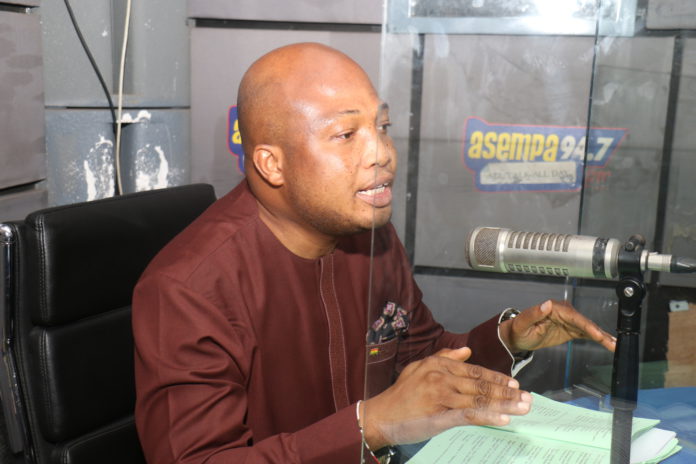 The National Cathedral Secretariat has disputed claims by North Tongu Member of Parliament, Samuel Okudzeto Ablakwa, of a GHC 2.6m illegal payment to JNS Talent Centre Limited.
The Secretariat has described the claims as false, stating the payment was not illegal.
A statement, signed by the Executive Director, Dr Paul Opoku-Mensah, explained the payment was a refund of a short-term interest-free loan made by JNS to top up the payments to the contractors of the National Cathedral.
"This support was sought from a National Cathedral Trustee Member, Rev Kusi Boateng, in a letter dated August 26, 2021, due to a delay in the receipt of funds to pay the Contractors on time. The GHC 2.6m was paid from the JNS account to the National Cathedral account on August 27, 2021, following a request from Rev Kusi Boateng to his bankers, ADB.
"The GHC 2.6m was refunded to Rev Kusi Boateng, and JNS, by the National Cathedral on September 8, 2021," the statement read in parts.
The lawmaker on Monday made damning revelations against Reverend Victor Kusi Boateng who happens to be the Executive Secretary of the Board of Trustees for the project.
The lawmaker has accused Rev Kusi-Boateng of criminalities, stating he has a double identity and multiple passports with different dates of birth.
In an earlier expose', Mr Ablakwa had indicated the National Cathedral Secretariat transferred a cash sum of GHS2.6 million to a company called JNS Talent Centre Limited for no work done.
He identified the directors of the company as Johannes Eshun, Sheila Eshun and Kwabena Adu Gyamfi and alleged there is no distinct Kwabena Adu Gyamfi.
To him, Kwabena Adu Gyamfi is a criminal creation of Rev Victor Kusi-Boateng, adding the two are therefore one and the same, hence the need for his resignation and possible prosecution
But the Secretariat says it expected the MP to follow due verification processes in his quest for accountability and transparency about the project.
"This is not an illegal payment! As we have stressed, consistently, a project of this nature that significantly raises the issues of faith and national development will always have its discontents, malcontents, as well as those who would use lies, and reckless populist statements to give the impression of wanting accountability.
RELATED:
National Cathedral: Okudzeto Ablakwa's latest exposè about secretary will blow your mind
"In our vibrant democracy, this is to be expected. However, we do expect that the basic values of verification, particularly by Members of Parliament, would be followed.," the statement admonished.
Meanwhile, they have stressed nothing will sway their attention and will remain committed to see the successful completion of the project.
"The Board and Management of the National Cathedral Project remain focused and committed to the completion of the National Cathedral, and would continue to do so with diligence, integrity, excellence, and accountability," the statement added.
Below is the full statement from the Secretariat: