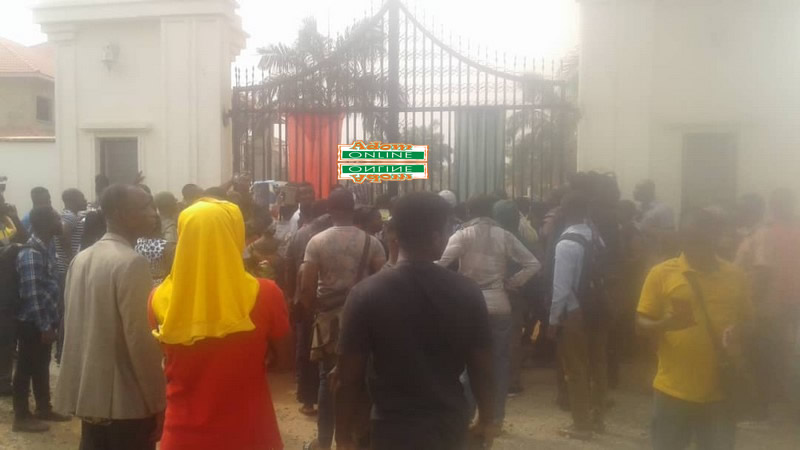 Aggrieved customers of collapsed gold dealership firm Menzgold, say they will not rest until their locked investments are retrieved.
Public Relations Officer (PRO) for the customers, Francis Owusu, speaking on Adom FM's morning show Dwaso Nsem Thursday, said he personally saw Nana Appiah Mensah (NAM1), on their arrival at his residence.
We feel NAM1 is being protected by the State else we wouldn't be treated this way. I personally saw him when we got to his house as well as when he was later whisked away, they should stop protecting him and allow him to refund our cash, he said.
On why they were at the Menzgold CEO's residence, Mr Owusu explained that they had no choice but to do so because they have waited for so long for a refund of their monies.
Having waited for this long, we just simply could not hold on any longer to retrieve our cash, he fumed.
He revealed that since the collapse of the firm, over 20 customers have died with others bedridden.
ALSO READ
He cautioned Nana Appiah Mensah to make frantic efforts to settle the remaining customers before the worst happens.
The Menzgold customers on Wednesday, January 8, stormed the Accra residence of the Menzgold CEO ostensibly to collect debts owed them by the firm.
The customers, numbering were, however, arrested for breaches to the public order act.
The customers also claim they heard gunshots from the home of the embattled CEO who the say was later whisked away by police.
Listen to audio above
Source: Adomonline.com | Dorcas Abedu-Kennedy