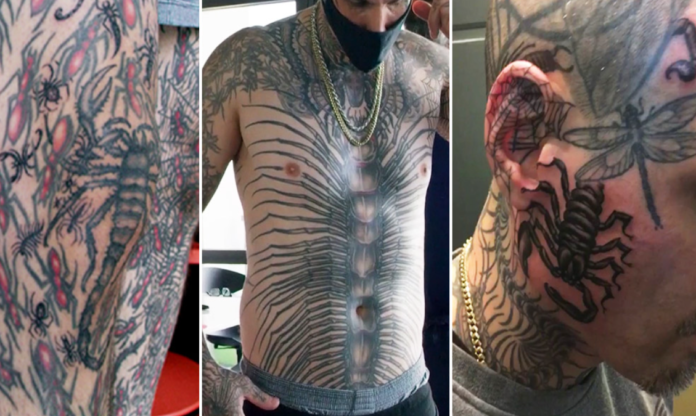 Michael Amoia (USA) has a staggering 864 insects tattooed on his body, as confirmed on 28 October 2021.
His artwork includes beetles, ants, earwigs and moths.
Some of these tattoos include:
A 13-inch moth across his throat and chest
89 ants on his left forearm and another 36 from his forearm to his bicep
23 red ants on his right posterior calf
A 2.5-inch beetle over his right eye
A 2.5-inch earwig behind his right ear
His first tattoo was of an ant that he got on his right forearm when he was 21 years old.
"The first one I got was a red queen ant. She got pregnant and that's where it all spawned," explained Mike.
Many would deduce that Mike enjoys entomology or simply loves the look of bugs.
However, that's far from the truth.
"A lot of people think I like bugs – actually it's the complete opposite. I'm afraid of bugs, I hate bugs. But is has multiple meanings, that's why I put them all over my body." – Mike Amoia
"It's some dark meaning, but more of a positive message ."
He also has other creepy crawlies tattooed on his body, including spiders and two massive millipedes. These don't count towards the record total however, as they are not technically insects – spiders are arachnids and millipedes are myriapods.
The millipede on his chest is 17 inches wide and 19 inches long, and he also has a 50-inch one on his back.
Mike's tattoos can attract a lot of attention when he's out and about.
"People always come up to me and talk to me about my work."
"I guess I have to expect it; but when they learn about my story they start to formulate a completely different opinion of me."
"Hopefully I can open up some people's minds so they can realize, you know, there's a few ways to look at things and don't judge a book by its cover, I guess."
Mike is a music producer, starting his career when he was 22, and has worked with many high-profile clients.
He has also started various businesses including Vidiots, Switchblade Entertainment Group and Mibe Music. It's fair to say that the New York native has enjoyed incredible professional success.
"It's always funny because any time I put these [tattoos] on [my body] everybody said it would deter me from getting a job or making any sort of real money."
"Now, twenty something years later, I'm using it to actually raise money and awareness."
Mike has a plan to utilise his record-breaking artwork to create a unique NFT (non-fungible token), which can be sold to raise money for a cause close to his heart.
Mike sits on the board at For a Bright Future, a foundation that donates equipment and money to "underprivileged, underrepresented kids."
"If I can create an NFT out of these tattoos and validate it with Guinness World Records then we can donate some of the proceeds back to these kids."
"My tattoos have a personal meaning to me as it takes me back to my childhood, and I figure it's a nice full circle story."
We're excited to see what the future holds for Mike's extraordinary and record-breaking tattoos.
You can follow Mike on Instagram at @aiomaekim
History of the most insects tattooed on the body record
27 April 2011: Rick Genest aka 'Rico' (Canada) broke the record with 176 insect tattoos. Rico had insects tattooed on his arms, torso, back and head
30 November 2018: Joshua Thornton (USA) broke the record with 281 insects. His tattoos take the form of ants that were tattooed in a line all over his body by five different artists in one sitting. He also has one fly tattoo..
7 August 2021: Baxter Milsom (UK) broke the record with 402 insect tattoos. Baxter has an A-Z of different insects tattooed onto his body, from alligator bugs to zebra swallowtail butterflies.
MORE: