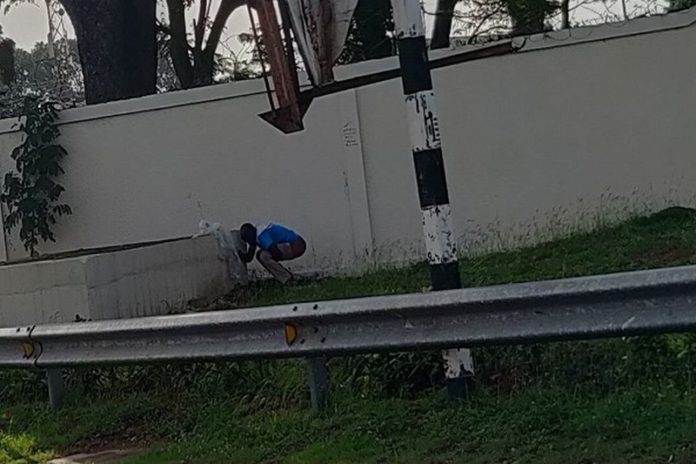 Perhaps the most audacious and insulting act to the presidency, an unidentified man was spotted taking a dump in front of the seat of government.
The unidentified man, who seemed unperturbed but with the only mission to answer to nature's demanding call, made his way behind a reservoir around the edifice and handled his business.
After positioning himself close to the reservoir, and certain he would not be disturbed, he took out a black polythene bag, squatted and dumped away.
ALSO: Nduom reacts to demo by Gold Coast Customers
This will not be the first time the Jubilee House has been targeted for such desecration. Earlier this year, another unidentified person dumped refuse right in front of the seat of Presidency.
The video making rounds on twitter has generated several reactions with some condemning the man while others have jumped to the defense of the offender.
ALSO: 'Year of Return' has been successful – Ghana's Ambassador to US
President Nana Akufo Addo has vowed to make the capital the cleanest in the sub-Saharan region but such acts contribute to setbacks his administration will have to surmount in addition to the growing sanitation challenges.
I just saw someone taking a sh!t around Flagstaff House!!
😐😐😐 pic.twitter.com/iIp05qBPff

— Efo ✌🏾Manolas, the Greek god in Rome✌🏾Dela (@Amegaxi) October 14, 2019
Source: Ghanaweb