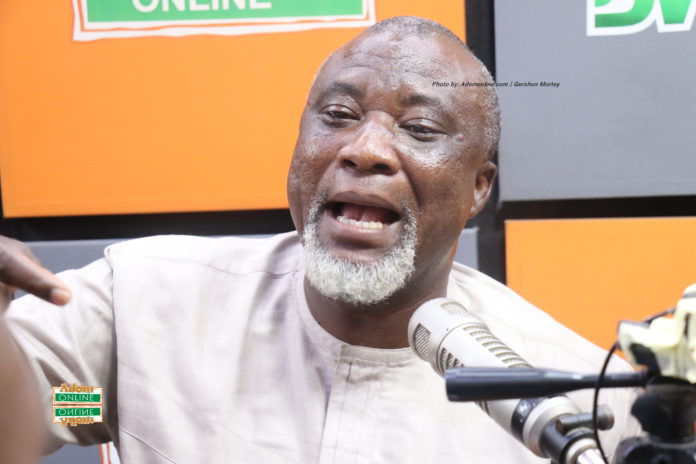 New Patriotic Party (NPP) parliamentary candidate for Kpone Katamanso in the Greater Accra region says Togbe Afede XIV, and his vice, Daasebre Nana Kwebu Ewusi VII who are opposing the upcoming referendum are only on a self-service agenda.
To Hopeson Adorye, the statement issued by the National House of Chiefs that called for a 'No' vote in the referendum on local government elections was unfortunate.
"It is unfortunate that Togbe Afede XIV will make such remarks. I really respect this man but on this issue, I disagree with him. These chiefs are only on a self-serving agenda which is very bad," he said.
ALSO: Audio+Photo: Man narrates police bullet received in the waist ruined his happiness
Mr Adorye was speaking on Adom FM's morning show Dwaso Nsem Monday, following the controversy over the referendum.
A statement authored by Togbe Afede and Nana Kweku Ewusi VII, President and Vice-President respectively, opposing the December referendum, has drawn fury, denial and harsh remarks among some top chiefs.
Ogyeahoho Yaw Gyebi II, Paramount Chief of Sefwi Anwhiaso Traditional Area and President of the Western Regional House of Chiefs, who doubles as Chairman of the Governance Committee of the National House of Chiefs, has described the statement as bogus and arbitrary.
ALSO: Coup Plot Allegations: ACP Agordzo denied bail again
The Okyenhene and other prominent chiefs from the Eastern region have also distanced themselves from the statement made by the president of the House of Chiefs and his vice.
Mr Adorye added that the decision was not the collective view of the house because it did not go through due process.
"The last meeting of the National House of Chiefs was in September and that meeting article 55 was not part of the agenda. Just as it is done in Parliament, when issues of funds or security come up, we have a committee to take over and decisions will be taken afterwards.
ALSO: Referendum: NDC gives 10 reasons why electorates must vote 'NO'
"It is the same way the House of Chiefs could have consulted their committee before it is agreed, but you omit the chairman of the committee and take hasty decisions and you expect other chiefs to be happy?" He quizzed.
According to Mr Adorye, the referendum would help bring development to the doorsteps of the people as well as help deepen the growing democracy of the country. He, thus, urged people to vote 'Yes' in the referendum.