South Africa's President Jacob Zuma has defied his party and refused to step down, according to media reports.
He and senior members of the African National Congress (ANC) held talks on Sunday but no details of their meeting have been released.
Facing corruption allegations, Mr Zuma was replaced as ANC leader in December.
Party leaders, who may be trying to oust Mr Zuma before his State of the Nation address later this week, will hold an emergency meeting on Monday.
Julius Malema, an opposition leader and former ANC member, said on Twitter that Mr Zuma had been asked to stand down but had refused.
Mr Zuma, who spent time in prison for his part in the fight against apartheid, is most of the way through his second – and last – term as president.
Under his rule the civil service has expanded, HIV/Aids rates have decreased, and his plans for development have won support across the political spectrum. But the Zuma presidency has been overshadowed by allegations of corruption and his deputy, Cyril Ramaphosa, was elected the leader of the ANC party in South Africa in December on an anti-corruption platform.
What are the allegations against him?
Mr Zuma is accused of corruption, fraud, racketeering, money-laundering and tax evasion.
The 18 charges go back to the 1990s and relate to 783 payments made as part of an arms deal.
Mr Zuma and other government officials were accused of taking kickbacks from the purchase of fighter jets, patrol boats and other arms.
Charges were first brought against Mr Zuma in 2005 but dropped by prosecutors in 2009.
Mr Zuma has always denied any wrongdoing.
A businessman with links to him, Schabir Shaik, was sentenced to 15 years in prison for soliciting bribes from a French arms company.
Last year, the High Court ruled in a case brought by the opposition Democratic Alliance that Mr Zuma should face the charges.
Mr Zuma lodged a challenge with the Supreme Court of Appeal but it also ruled that he should face the charges.
There is also the prospect of an inquiry into so-called "state capture" – the allegation that a wealthy Indian-born family, the Guptas, has influenced government through a corrupt relationship with Mr Zuma. Both Mr Zuma and the Guptas deny the allegations.
What happens next?
If Mr Zuma refuses to step down, it could be hard for the ANC to recover.
Party leaders appear to be trying to act before this week's planned State of the Nation address to parliament and before a motion of no confidence a few weeks from now.
Analysts say party chiefs want to avoid a power struggle that could split the ANC before elections next year.
Before the meeting with Mr Zuma on Sunday, ANC chairman Gwede Mantashe said he wanted to ensure "stability in the country and stability in the ANC".
On Monday, as senior figures hold a meeting to decide Mr Zuma's future, protesters both in favour of and opposed to the president will be gathering in Johannesburg.
The party could decide to fire him from the presidency. There would be a certain symmetry to this, as he himself became leader of the party before his predecessor as president, Thabo Mbeki, was fired.
They are expected to begin the process to remove Mr Zuma through a formal recall or by introducing a motion in parliament.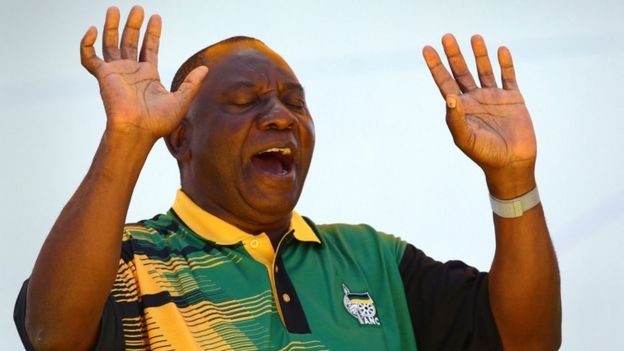 Cyril Ramaphosa says the ANC has become divided through factionalism and corruption
The six most senior figures of the governing ANC party arrived one by one on Sunday at Mr Zuma's residence in Pretoria.
They remained tight-lipped as the talks ended but have called a meeting of the party's national working committee for Monday.
Mr Zuma is not due to leave office until the 2019 elections. However, the ANC has seen its popularity fall during his second term amid a weakening economy and claims of corruption.
Mr Ramaphosa, who as the ANC's new leader is in a strong position to win the 2019 elections, has called for party unity.
But correspondents say fears are growing that he and his allies in the ANC may move against Mr Zuma if he refuses to stand aside.