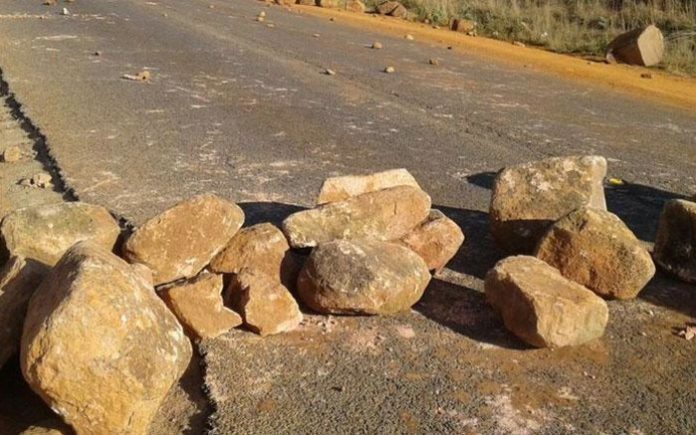 Imagine having an emergency at home and driving on top speed to get to the nearest health centre only to bump into a road block with many dressed in white and enjoying bottles of bear because someone is celebrating his/her birthday and has blocked the road.
Very nauseating I guess. What will rile you even the
more is when there is no road sign to forewarn drivers; you virtually drive
into them and gets trapped.  
In some cases, frustrated drivers are compelled to use alternative unfamiliar routes because of someone's lawlessness. It is simply unfair.
In other cases, these road blocks cause needless
traffic and waste the precious time of people who have nothing to do with a
funeral or party being organised in the middle of a road.
It defies logic why some people choose to block a
section of a main and busy road to organise funerals, weddings, naming
ceremonies and birthday parties when many event grounds abound.
It is said that the youth in communities that are fond of engaging in such stomach-churning acts take pride in organising events in the middle of a road. In fact, you may lose respect if you are unable to block a road to organise an event.
Some have even claimed that some officials at the Accra Metropolitan Assembly (AMA) are complicit in these illegal acts because they give the permission for a road to be blocked for a social event.
The police say blocking a road for funerals and other social events is illegal
This is clearly backward thinking and total disregard
for the laws of the country. Areas notorious for blocking roads include James
Town, Korle-Bu, Sukura Zongo, Banana Inn, Korle Gonno, Abossey Okine, La and
Kaneshie.
Though the Ghana Police Service has made it clear on
countless occasions that it is illegal to block a section of a road for social
events, the practice keeps going on. In fact, rarely is anybody arrested and the
road cleared to serve as deterrent to others.
Time
to turn the tide
The time to stop this is now. It is necessary to do
so because a calamity could befall a whole community because someone has
blocked a passage way for the Ghana National Fire Service to douse a raging
fire in a Compound House.
Someone could also lose a relative who needs urgent medical attention because a busy road has been blocked for a party. The time to waste to meander for alternative route could cost a life.
The AMA and the Motor Traffic and Transport Department
of the Ghana Police Service should lead the charge to stop this canker.
These two key agencies should crack the whip on the perpetrators of these acts as a part of an elaborate campaign to stop this practice.
Source: Adomonline.com | Kofi Enchill | joseph.enchill@35.232.176.128| @nanaenchill 1