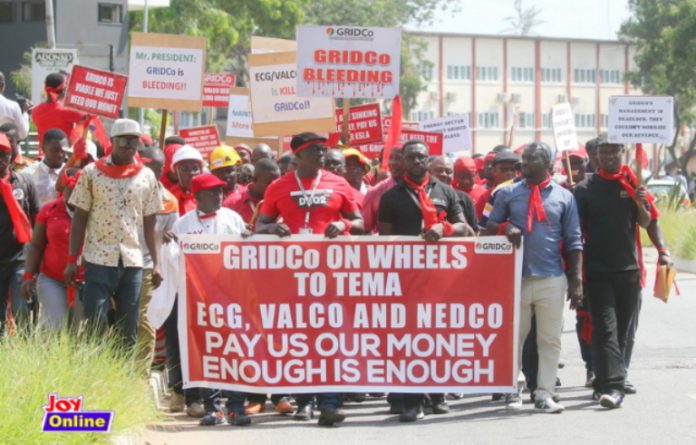 Staff of Ghana Grid Company (GRIDCo) have announced a sit-down strike beginning Wednesday, December 10, until further notice.
READ: Ekumfi Juice sparks social media storm
The sit-down strike would be followed by a picket at the GRIDCo Head Office at a date to be announced later by the Staff Group Leadership, the Senior Staff Association of the power supplier said in a statement.
GRIDCo runs the National Interconnected Transmission System which ensures the transmission of electricity from wholesale suppliers (generating companies) to bulk customers, which include the Electricity Company of Ghana (ECG) and NEDCo among others.
READ: Yeji: Residents living in fear as robberies, murders surge
The GRIDCo staff are demanding that some GHS 250 million which President Nana Akufo-Addo directed the Finance Minister to pay GRIDCo, be paid.
They are also demanding the following debts be paid immediately to GRIDCo: VALCo's debt of about $32,567,974 as of September 30; ECG's debt of about GHS 607 million as of March 1, 2019; the PDS debt of GHS94,204, 903 which ECG collected during the suspension of the PDS; the NEDCo debt of about GHS177 million as of September 30, 2019.
The GRIDCo leadership has been pushing for the payment of these millions since the beginning of this year.
READ: MP jabs Mahama over corruption fight comments
Agitated staff shelved a planned sit-down strike on December 4, 2019, after presenting a petition to the government on their grievances.
Before presenting the petition, hundreds of GRIDCo staff, clad in red, took to the streets to protest the huge debts owed them by its bulk customers.
With weeks to the Christmas festivities, the indefinite sit-down strike by the GRIDCo staff is likely to lead to power cuts or 'dumsor'.