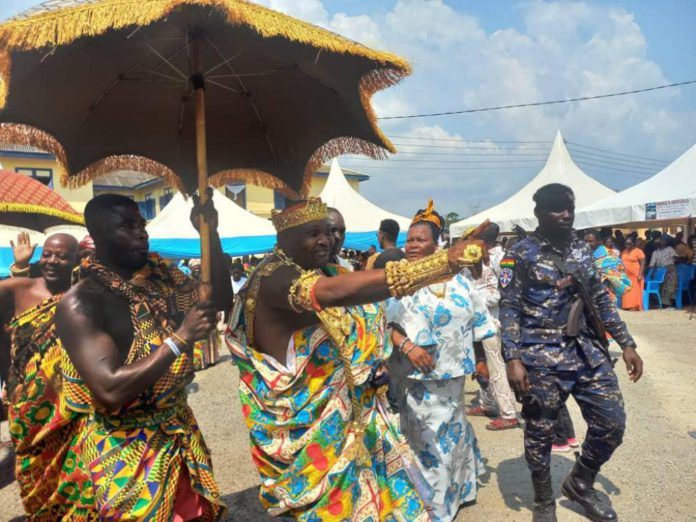 Vice President of the Nkusukum Traditional Council, Nana Benyin III, has cleared the air on happenings that led to the gay rights activist who fell from a palanquin in the Central Region.
He explained that the council decided to enstool Davis Mac Lyalla as chief of foreigners in the town in line with the government's 'Year of Return' agenda.
"We needed a chief to take control of their (foreign Yamoransa natives) affairs so we chose Nana Gyasi (Lyalla) to be Amankwahene for foreigners so that when they want to support the town, he can lead them," he said on Adom FM's midday news, Kasiebo is Tasty.
The Nigerian-born Ghanaian and British citizen was installed as Development Chief by the Nkusukum Traditional Council over the weekend.
However, he fell from the palanquin while he was being hoisted about as part of rituals to familiarise himself with his subjects, as captured in a trending video.
But the chief has explained that although the elders did a background check on Mr Lyalla, they found out about his activism on the day of the instalment.
The fall from the palanquin, therefore, according to him, was an instruction to the carriers to bring him down after reports about his activism went viral on the day.
He said the elders have, therefore, withheld the enstoolment to investigate the matter.
He further explained that: "The man has not been enstooled as chief. When he was carried in a palanquin, a misunderstanding started so nothing happened."
Meanwhile, Mr Lyalla, who fell from a palanquin during his installation as chief has said he is unperturbed about the rising controversy surrounding his latest feat.
Mr Lyalla retorted that his sexual orientation has nothing to do with his ability to perform as a chief.
However, some subjects have expressed dissatisfaction with the traditional council for installing a gay activist as chief.
I care less – Chief who fell from palanquin breaks silence