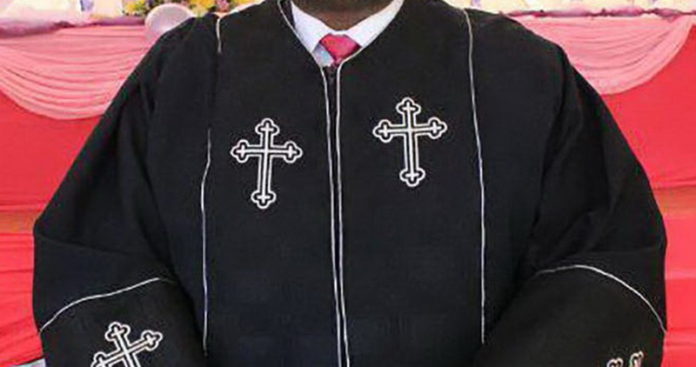 Videoed in a room filled with Nazi memorabilia, this is the moment a Catholic priest snorted a line of cocaine at a party in his house on church grounds
Father Stephen Crossan, 37, is said to have sniffed the class A drug through a £10 note at the end of a night of drinking beers and whiskey
In the footage he is heard saying 'I shouldn't' before snorting the white powder off a plate while talking to a friend.
READ ALSO: Postpone referendum– Catholic Bishops to Akufo-Addo
The video, obtained by The Sun on Sunday, is said to have been recorded at the end of two days of partying when Father Crossan invited friends to his parish home.
He has admitted taking drugs, telling the newspaper's Ruth Warrander: 'It was just the one night and that was it. I do not have an issue with drugs.'
A source said a number of revellers went back to Father Crossan's house at 11am for seven hours – where they were greeted by Nazi memorabilia – after a party host asked them to leave.
The memorabilia included flags, hats and an eagle with a swastika on a plinth on Father Crossan's mantelpiece.
READ ALSO: Nine in court for stealing GH¢ 135,330 from adb
The source added: 'It was all over the house. At one point Stephen put on a cap and did the Nazi salute.
'It's shocking. He's supposed to be an upstanding member of society. He shouldn't be taking drugs.'
The source also confirmed Father Crossan had been drinking beers and Jack Daniels whiskey as well as taking cocaine.
Father Crossan, who lives on the grounds of St Patrick's Church in Banbridge, Northern Ireland, denied being a Nazi and said the memorabilia was there because he collects 'historical stuff'.
He said he had depression and was on sick leave when the footage was taken. Father Crossan said he had left the church but was being backed by the parish, while a spokesman for his bishop said the priest would be supported through his issues.
ALSO READ: Police prosecutors seek AG's advice in alleged cops killer's case
Father Crossan studied for the priesthood at St Patrick's College Maynooth, and completed a degree in theology in 2007.
During his years at Maynooth, he was involved in various pastoral activities including prison and hospital chaplaincy, according to a parish website.
He was appointed to Seapatrick parish as Curate in 2012 and before this served as Curate in St Peter's parish, Lurgan and the parish of Tullylish.