Deputy Minority Chief Whip is wondering whether newly elected Member of Parliament for Ayawaso West Wougon, Lydia Alhassan will enjoy her stay in Parliament.
According to Hon. Ahmed Banda, her seat is 'tainted with blood' due to violence that characterized the by-elections in her constituency.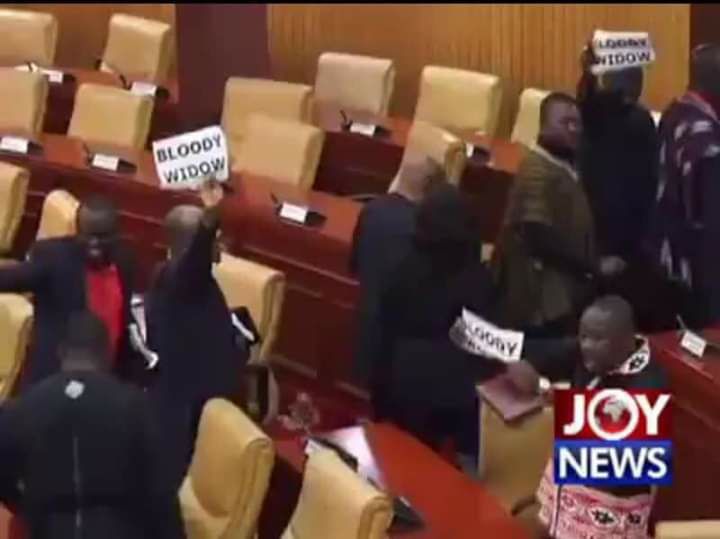 Lydia Alhassan contested and won her late husband, Emmanuel Agyarko's seat and was sworn into office Tuesday.
READ: Audio: Sam George justifies 'bloody widow placard'
However, following some disturbances at La Bawaleshie, one of the over 130 polling centres, the NDC says they would not recognise the new MP.
As she was being sworn into office, the NDC MPs staged a walkout while hurling placards of a very unsavoury and insensitive phrase.
Scores of Ghanaians have chastised NDC Parliamentarians for an unsavoury tag on the newest member of the House.
READ: Just in: Three police officers attacked at gun point, weapons seized
In a riposte, Hon Ahmed Banda on Asempa FM's Ekosii Sen programme Tuesday said their action is justified.
He explained that, they informed the Speaker of Parliament, Prof. Mike Ocquaye before they walked out thus cannot be blamed for doing anything wrong.
Hon. Banda who is also the MP for Banda constituency stressed that, the boycott was to solidarise with the victims of the violence that occurred at the La Bawaleshie polling centre during the election that gave Lydia Alhassan a seat in the House.
READ: Uber driver remanded for robbing passenger
"Are you proud of what me you an MP; the whole by-election was bloody and Lydia must pay for that" he added.
Hon. Ahmed Banda said the NDC is attacking the system that gave legitimacy to Lydia Alhassan.