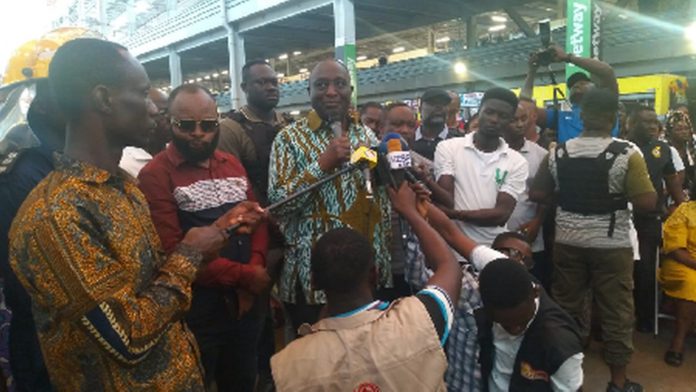 A flag bearer aspirant of the New Patriotic Party (NPP), John Alan Kwadwo Kyerematen, on Friday donated GH¢100,000 to traders whose shops were gutted by the recent fire at the Kejetia Market in Kumasi, the Ashanti Regional capital.
The donation, the former Minister of Trade and Industry said, was his widow's mite to alleviate the plight of the affected traders and to help them to recover from the losses they suffered during the fire incident.
Visit
Addressing the victims during a visit, the NPP presidential hopeful expressed his sympathy to them and pledged to engage with the government to ensure the swift implementation of the measures that the investigation committee would recommend.
"I will liaise with government authorities as they investigate the cause of the fire and ask that they implement remedial measures swiftly to forestall the recurrence of such a tragedy", Mr Kyerematen stated.
He asked the traders to keep hope in the NPP government and wait for the report of the investigation before going back to the area destroyed by the fire.
Mr Kyerematen asked the traders to conduct their activities in accordance with the laid down regulations at the market.
ALSO READ:
Kwesi Pratt blames Kejetia management over fire outbreak
NDC man slams Bawumia over reopening of Kejetia market
"We should not allow what happened here to happen again because this very place is where you get your livelihoods from your trading activities," Mr Kyerematen said.
Appreciation
Receiving the cash, Nana Sakina, a representative of the Market Queens, was grateful to Mr Kyerematen for the gesture.
She said that it was quite refreshing that having visited them recently to learn of their challenges in the market including those who sold at the race course market, Mr Kyerematen had cut short his tour of the country to sympathise with them and to donate such a huge amount to the victims.