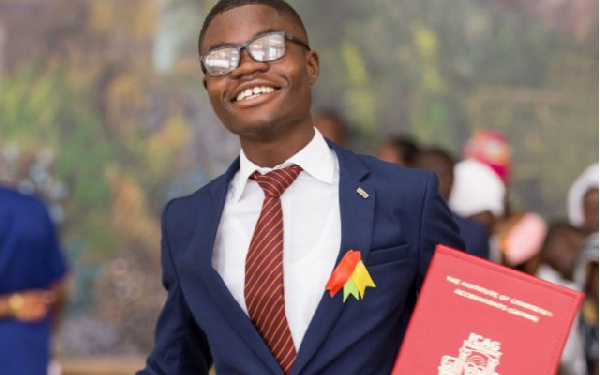 Nineteen-year-old Solomon Etornam Asuhene of the La English Assembly in the La District of The Church of Pentecost is currently the youngest Chartered Accountant in the country after successfully passing all three levels of the Chartered Accountants (CA) professional examinations.
The record-breaking feat was conferred on him by the Institute for Chartered Accountants Ghana (ICAG) at the recently-held 32nd ICAG Graduation and Admission Ceremony in Accra on Saturday, April 27, 2019.
Solomon wrote three papers out of four and deferred one in the first level of the CA examination. In Level 2 of examination, he took all six courses required and wrote seven papers including the one from the previous part. In the final part, he wrote two courses at the first attempt and the other two on the next attempt, thereby passing all 14 papers as required by ICAG.
ALSO: Kparekpare bans carrying of knives in public
Speaking to PENTECOST NEWS, he revealed that it has been his objective to become a Chartered Accountant as a teenager so as to able to explore many other opportunities that may come his way.
He encouraged others who are pursuing higher heights in their professional careers to keep working hard regardless of the challenges they may encounter in life. "Despite my humble background, I didn't give myself any excuse. I worked very hard to make my dream of becoming the youngest Accountant in Ghana happen and now I have excelled by the grace of God," he said.
ALSO: Police only take funeral donations not bribe – Paramount Chief of Elmina (Audio)
Solomon is currently majoring in Insurance at the Finance Department of the Business School of the University of Ghana. He serves as the Organising Secretary for the UGBS Student Counci. He is also an active student with tremendous contributions to co-curricular activities.
Solomon Etornam Asuhene aspires to help local entrepreneurs conceptualise their business ideas, add value to their products and services, and grow their businesses to be globally competitive.
Source: Classfm